The Marion Port Authority was created in 2003 through a joint venture of the City of Marion and the Marion Board of County Commissioners. The mission of the Marion Port Authority is to implement economic development initiatives that will strengthen and diversify the economy of Marion County and Central Ohio.
The Marion Port Authority is a tool to assist the Marion community in fostering economic development. The port authority can work with businesses to provide both private and public financing.
Why the Marion Port Authority? The port authority may be able to help your business save money through its tax-exempt status or ability to work with various State Loan funds.
The Marion Port Authority works closely with Marion CanDo!, the city/county economic development agency and the Marion Regional Planning director.
The Marion Port Authority has a five member Board appointed jointly by the City of Marion and the Marion County Commissioners.
If you are anticipating a building project, renovation project, energy savings project or other business additions, the Marion Port Authority may be able to provide tax savings or loan procurement.
Upcoming meetings:
November 13, 2023 - 3:00 PM Regional Planning Office, 2nd floor, 222 W. Center St.
Financing:
Marion Port Authority in conjunction with Marion CanDo can help locate or facilitate a
Marion Port Authority Completed Projects
Marion YMCA (2011) – $7.5 Million

Mansfield YMCA (2008) – $3.5 Million

Marion Palace Theatre (2008) – $512,000

Union County YMCA (2007) – $3.5 Million

Marion Turning Point (2007) – $1.0 Million

Toledo Central Catholic HS – $3.2 Million
variety of funding sources to help small and large businesses and corporations relocate to or expand in Marion County.  Our role is to help businesses grow by providing options in financing economic development projects.  Our experience and our professional contacts allow us the ability to think outside-the –box and provide unique financing options to those businesses that may be considering Marion County their new home. 
Below is a short, non-comprehensive list of programs that we will explore on your behalf.  Many of these financing vehicles can be used in conjunction with each other and after a discussion with you about your project we can provide assistance to you by suggesting a financing package that we will help you secure.
Sales Tax Lease – The Port Authority can provide a sales tax exemption on construction materials for new construction of facilities if the business plans to retain or create new jobs within Marion County. 
Conduit Issuer of Bonds – The Port Authority can be the conduit issuer of taxable or tax exempt bonds.    This could benefit a business or a non-profit in a number of ways, please call to discuss.
Tax Increment Financing ("TIF") – The Marion Port Authority can work with you to maximize the TIF to its fullest potential and help facilitate the TIF with the local municipality and school district.
Federal, State and Local Grants, Loan and Bond Fund Programs – The Marion Port Authority through its many professional contacts could add significant value to businesses planning to expand or relocate to Marion County.  Today, there are numerous grants, loans and bond fund programs available to businesses and non-profits.  These programs are available through a number of different organizations.  The difficult part of structuring a complete financing package is locating, securing and utilizing different financing programs to maximize the benefit to the business owner.  Marion Port Authority has the experience and resources to explore all financing options available and determine the best possible financing option for a specific project.
There's an oasis from the stress of big city hassle, and it's right here in the heart of Ohio… convenient, friendly, safe.It's a place where businesses can grow… and families can prosper. 

Where a modern school system hasn't lost touch with the kind of traditional values that produce good citizens and responsible adults. Where the traffic lets you get where you want to go, and back… with plenty of time to spare. Where modern law enforcement knows how to serve the people, as well as protect them. Where there's plenty to do, and plenty of quiet when doing nothing suits you just fine. 

It's a place where people still remember how 
Marion Treasures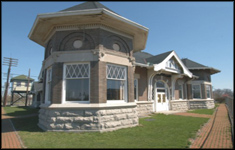 Train Station
 to work together to get thingsdone, to build a stronger community, a community that looks after its children, and provides for its elders. In Marion, you'll find that our heritage of sharing lives on, and feeling right at home comes easy.

We wouldn't have it any other way.

We invite you to come visit us. Look around. Meet some of the people who make everyday living something special… every day of the year.

Our Attractions:
Harding Home and Museum. Visit the home of the 29th President of the United States, Warren G. Harding, and his wife, Florence.
Harding Memorial Corner of Delaware Ave. & Vernon Heights Blvd. The final resting place of President and Mrs. Warren G. Harding is the largest and most beautiful presidential memorial outside of Washington D.C.
Heritage Hall. Heritage Hall, once the city's main post office, is three museums in one. It is the home to the famous Wyandot Popcorn Museum and also features Warren G. Harding memorabilia and thousands of historical relics.
Huber Museum. The Edward Huber Machinery Museum, located on the Marion County Fairgrounds, contains examples of the finest steam and gasoline tractors, threshers and road-building equipment.
Marion Popcorn Festival. This large, family festival is always the first weekend after Labor Day and celebrate's Marion's claim to fame as the "Popcorn Capital of the World."
Palace Theatre. The splendid Palace Theatre opened in 1928 as a vaudeville movie palace designed by the foremost theatre designer of that era, John Eberson.
Stengel True Home. Located in a brick mansion built during the Civil War, this museum features artifacts from the Colonial through Civil War eras.  
Veteran's Memorial Park. There is no other area like this in the United States. The park has separate monuments dedicated to each war the United States has fought, including a special memorial to honor women
World War II Memorial. A tribute to local veterans, the ornate World War II monument was dedicated in 2001 and is truly the only memorial of its kind in the United States until one was constructed in Washington D.C.
Port Authority 2018 members:
Richard Arndt, Mike Nicolosi, Gary Pendleton, Dave Strzalka, Doug Hafer
You are here:  
Home

Marion Port Authority